March 10, 2018
Happy Mother's day!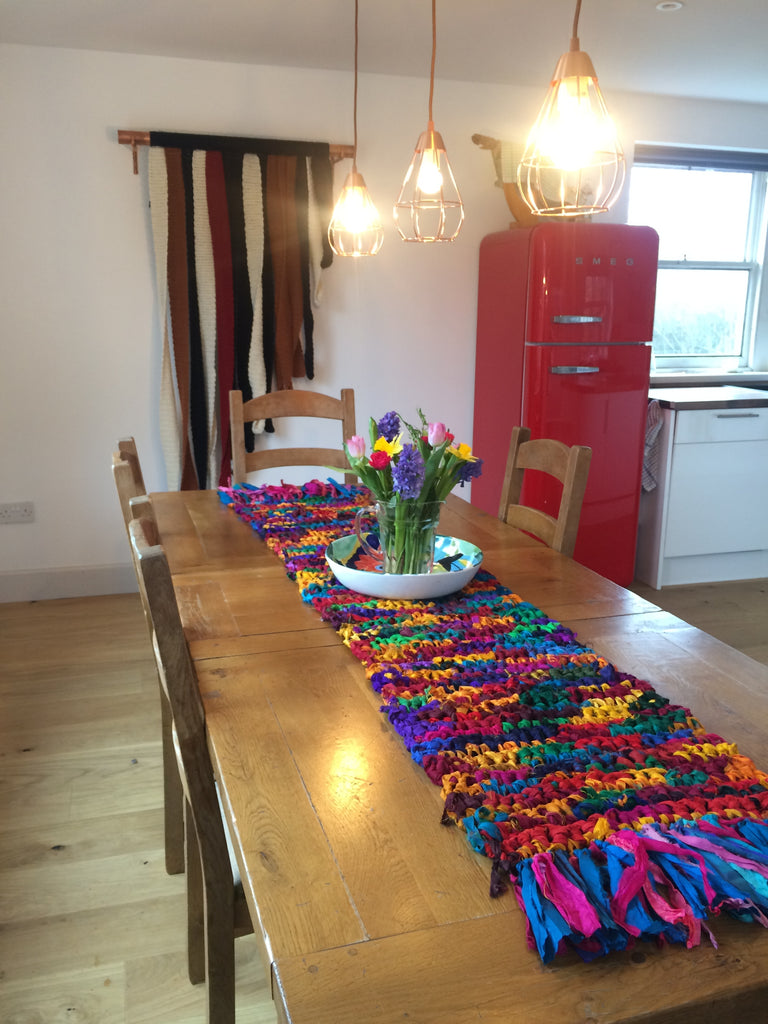 CROCHET TABLE RUNNER - FREE PATTERN!
We were inundated with questions regarding our massive kitchen table runner we have written out the DIY crochet pattern for it! It is so simple to make using sari silk ribbon. It doesn't have to be in this colour (multicoloured sari silk ribbon) we have many colour combinations available in the shop! 
INSTRUCTIONS:
Table runner 180 x 40 cm. You will need 850g of sari silk ribbon. This is very long, if you want a simple shorter runner just reduce rows and amount of ribbon used. 
Foundation: Ch 21
Row 1: Second chain from hook single crochet (sc) to the end (20st) 
Ch 1
Turn
Row 2: sc in each chain to end (20 st)
For the length of 180 cm sc for a total of 69 rows. Each row is approx 1 inch. 
Finish off.
Easy as that! If you wish to have texture to your runner then simple sc in the back loop of each ch. 
Fringe: add a fringe to each loop on either end and choose your length. If you make long fringe you can cut to measure. I found this to be the best video showing how to make a fringe.
https://www.youtube.com/watch?v=qsG_4LbnAng - Copy and past this into your browser! 
Happy Crafting!