October 24, 2016
Free crochet bottle bag pattern!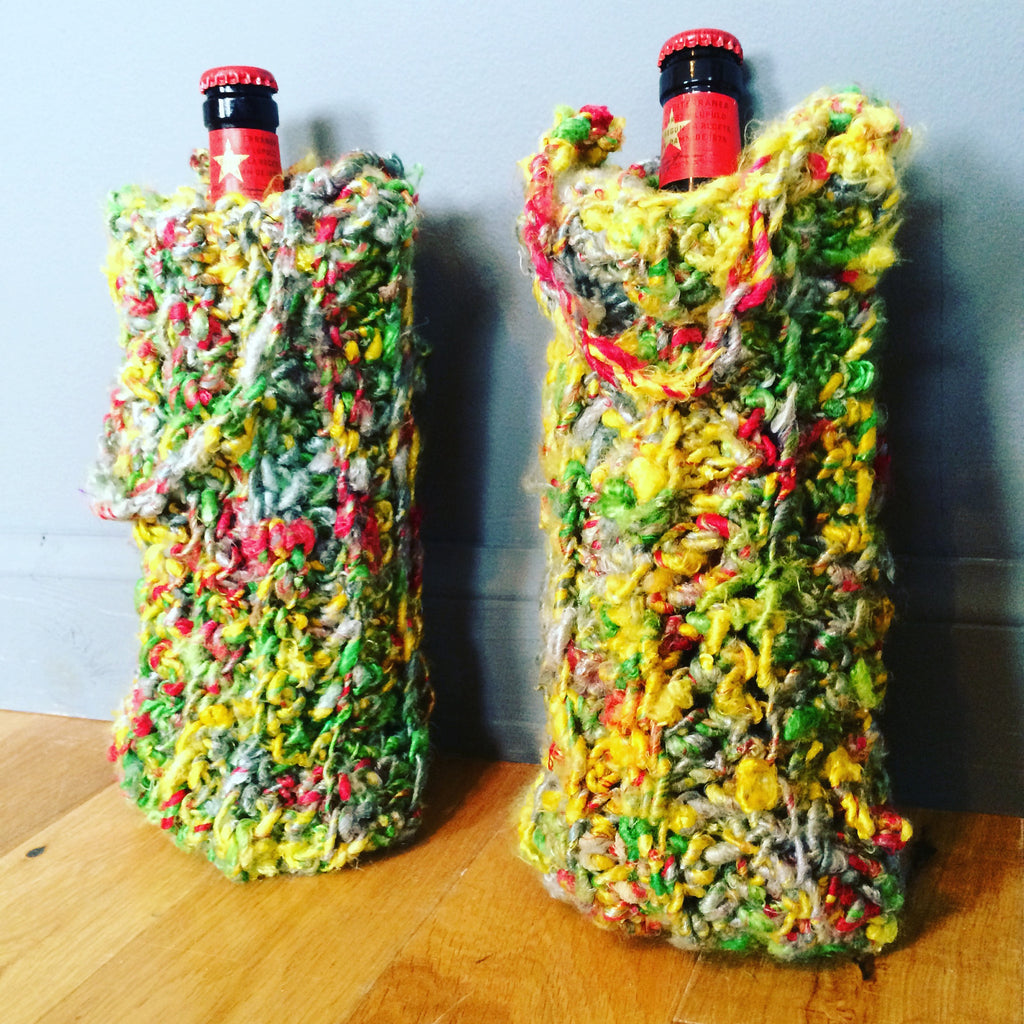 Get your free crochet patterns here with inspirational eco yarns! Off out to a friend's house for dinner? A party? Double up as a gift and wine bag for your friends! Original gift, original bag to carry your bottle! I have been making these freeform for years and years, but now I thought I would put together a basic pattern to share. This bag is so easy and takes no time to crochet up! I have also made a few using sari silk ribbon with tassles. I will upload these in due course! 
Materials: 
6mm (UK) hook
2 x 100g chunky banana yarn.
Washing Instructions:
Dry Clean/Handwash in a light detergent. 
Note: Due to the inconsistences of this yarn and its handmade nature you may find it can be thick and thin in parts and you may have to add an extra stitch. That is just the nature of these ethical handmade yarns. We also find that there can be an overtwist quite common in sari silk yarns and banana yarns, especially if they are chunky. Personally I find the overtwist and the odd little idiosyncracy and nodule adds to the distinctiveness of your creation!
Abbreviations:
ch - Chain
st - Stitch
bpsc - Back Post Single Crochet (this gives the bag a nice ribbed, textured effect).
sl st - Slip Stitch
Instructions:  
Note: Because of the overtwist keep your yarn loose around the hook and just dangle and untwist if you need to.
Ch 22
Row 1: sc in second chain from hook and sc in each remaining st to the end (21 sts) ch 1 turn.
Row 2. bpsc to the end (21 sts) ch 1 turn.
Row 3 -  20 bpsc ch 1. 
Join:
Keep your hook in the loop and take the bottom of your rectangle and fold it up and join together. Sl st around the edge to make a seam. Sl st to the end approx 31 sts. Cut yarn. Do not weave in ends yet.
Strap:
This is where a little bit of freeform comes in.
Take your yarn form a loop and sc into a ch in the corner of the opening of the main body of the bag. Ch 20 (or however long you want it).
Take the other corner and find an available loop and sl st or sc to join. Ch 1. Pull tight and cut.
Turn the bag inside out. This will give the bag o more rounded effect. Weave in any ends if there are any still revealed.
And there you have the easy peasy wine bag!