October 05, 2016
FREE KNITTED BEANIE PATTERN!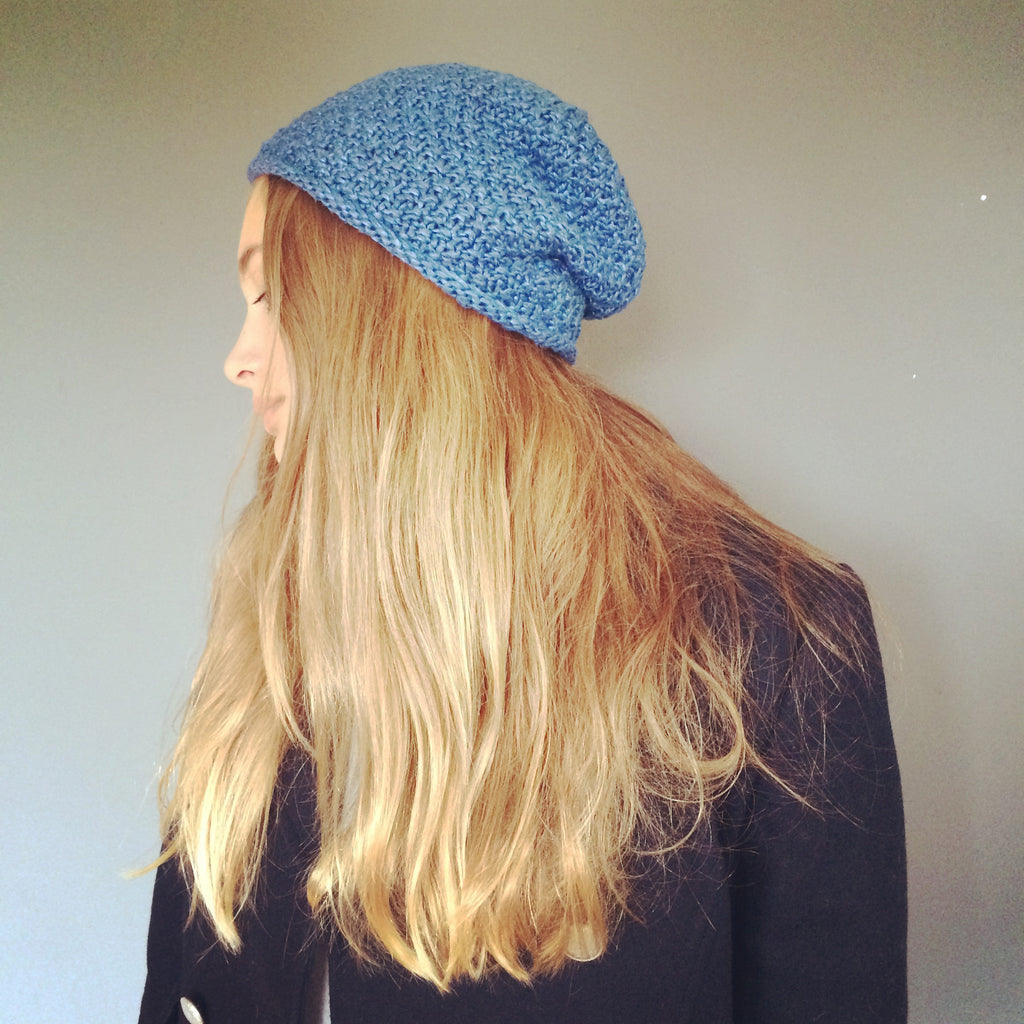 Good evening everyone! Since we are in mid swing of the first day of relaunch of our website there are some 'things' not quite up and running yet!
To kick us off here is a FREE KNITTED BEANIE DIY PATTERN below using our cotton and banana yarn. The softest ethical yarn in the universe. More to come! 
Beautiful knitted beanie pattern written by the lovely Saskia from Saskia's Ark. Known for her bespoke knitted toys, she has written a beanie pattern especially for us! 
Yarn: 2 x 100g balls of cotton and banana yarn – use the yarn from both balls to double the strands.
Needles: 4mm Double Pointed Needles or Circular Needles alternatively this pattern can be used on Single Pointed needles
DIY PATTERN
Cast on an even amount of stitches. For this example I cast on 70 stitches. Knit
Knit
Knit
Knit
Knit
Knit
K1 *P1, K1*
P1 *K1, P1*
P1 *K1, P1*
K1 *P1, K1*
Repeat rows 7-10 to desired length. For the sample this was duplicated 11 times.
 Decreasing rows
P2tog *K2tog, P2tog*
P1 *K1, P1*
K2tog *P2tog, K2tog*
K1 *P1, K1*
P2tog *K2tog, P2tog*
P1 *K1, P1*
K2tog *P2tog, K2tog* P2tog, K1
Thread through remaining stitches and bind off.
Pattern Key:
K1 – Knit 1 Stitch 
P1 – Purl 1 Stitch
K2tog – Knit two stitches together
P2tog – Purl two stitches together
* *     – Repeat stitches between these
Please note:  If using this pattern on Single Pointed Needles you will need to Purl all even numbered stitches for the first 6 rows. The hat will need to be sewn using a mattress stitch or any preferred stitch.